---
Nov 22, 2008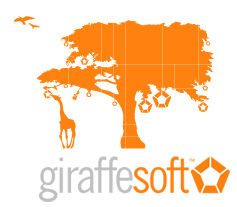 Let's start with the biggest news. This has been a long time in the making. At Rubyfringe, Francois, Daniel, and I had a long conversation about how great it would be if we could work together.
We gave it a shot for Rails Rumble, in which we built what does this error mean. We won for most useful, which we took as a sign that our idea of working together was a good one.
I can't express how excited I am and privileged I feel to be working with François and Daniel. They are truly top notch in every way. Their contributions to open source, previous projects, and resumes speak for themselves.
If you don't know these amazing guys, you can read about François and Daniel on our new site!
The New giraffesoft.ca
Thanks to our good friends over at Arktyp and the awesome Webby framework, we finally have a real website. With plenty of work coming in over the last 14 months or so, I was having a really hard time motivating myself to put a full fledged site together.
Well, now that the team is growing, I finally got my shit together to finish up the site. I'm really excited to be able to show off some of our past projects and open source work. We've got a full range of services products and we're finishing up an app or two that you'll hear more about soon. So, check it out. It's awesome.
This is just the beginning. There'll be some more giraffesoft announcements soon, so stay tuned.
---